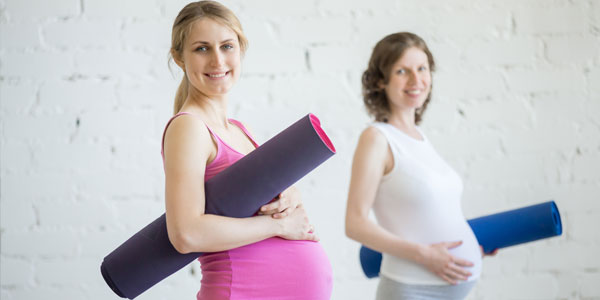 A gentle, yet structured, class suitable for pregnant and post pregnant (mat or equipment based sessions for groups and individuals) whether you have done Pilates before or not.
Train in confidence with our instructors who have industry recognised Pre and post natal exercise qualifications through a respected Pilates organisation.
We offer help and support to ladies who already have a background in Pilates and fitness, but also to those who wish to use Pilates for the first time during pregnancy.
During pregnancy a lot of changes happen to your body and Pilates is an excellent way to strengthen your core muscles, relieve backache and other aches and pains with an exercises programmes tailored to your own personal needs.
Why is Pilates good for pregnancy?
Pre Natal Pilates
During pregnancy your body undergoes huge changes; physically, emotionally and hormonal. Exercise in general needs to be altered to take these important factors into account.
Pilates can help you prepare for the physical demands of giving birth and provides such benefits as:
Helps maintain and improve the condition of both your abdominal and pelvic floor muscles
Helps promote relaxation and alleviates stress
Helps reduce back pain and tension
Helps maintain and improve posture
Post Natal Pilates
Post natal exercise and Pilates can be started approximately from 6 weeks (normal delivery) but consult with your doctor or medical professional first before doing so. The aims of post natal Pilates are to:
Strengthen your pelvic floor muscles, weakened by pregnancy.
Retrain your abdominal muscles to help support your spine and pelvis and recover your pre-baby shape.
Re-educate correct posture following the natural changes in your body through pregnancy.
Strengthen your upper body teaching you how to lift and hold your growing baby to avoid back problems.
Help regain/correct posture.
Need advice?
If you would like more information on Pilates and pregnancy please contact us, we are very happy to provide advice and help.
All Classes
Contact us to book
---
What do I need?
Mats and all equipment is provided, all you need to do is wear comfortable clothing and bring water.
New clients PAR-Q Form
PAR-Q/health and safety form that clients will need to fill out before consultation.
Timetable
Private Intermediate Pilates for men Beginner / Improver Studio studio equipment Wattbike Pre/Postnatal Mixed Online